De Kempervennen
Vakantiepark De Kempervennen is a Centerparcs park located in North Brabant. Enjoy the tropical swimming pool 'Aqua Mundo'. You can ski there in both summer and winter at the Montana SnowCenter. In short, a holiday park with a lot of activities

De Kempervennen
De Kempervennen is a Centerparks holiday park located in the village Westerhoven in the province North Brabant. The holiday park is located in the 'green heart' of the Brabantse Kempen, just south of Eindhoven.
Center Parcs de Kempervennen in a nutshell
You will not get bored easily at Center Parcs de Kempervennen. The holiday park has two recreational lakes, where you can learn to dive, water ski and wakeboard. Park guests without a fear of heights can take up the challenge in the outdoor "High Adventure Experience" by following the exciting course of rope courses high in the air. Play a game of mini golf or football. Go archery or fight a true laser battle with your family or friends. Go skiing or snowboarding in the Montana Snowcenter, which is available all year round.
In the tropical swimming pool 'Aqua Mundo' at De Kempervennen is a unique coral pool full of tropical fish. In addition to this life-in-the-sea pool, you can also use one of the various swimming pools such as a golf pool and a heated outdoor pool. Take on the challenge in the whitewater course at Center Parcs de Kempervennen. You can also relax in the sauna, Turkish bath or under the sun shower.
The young park guests experience the craziest adventures with the Wannabe team. There is also a petting zoo, an outdoor playground, a petting zoo and a kids safari. Escape from the escape room! Centerparcs de Kempervennen has no fewer than five restaurants, including a pizza / pasta restaurant, a grill restaurant and a buffet restaurant.
You can stay at centerparcs de Kempervennen in various cottages, such as a comfort, premium or children's cottage. There are also houseboats for rent.
New at Center Parcs de Kempervennen: Aqua Loop and Aqua Racer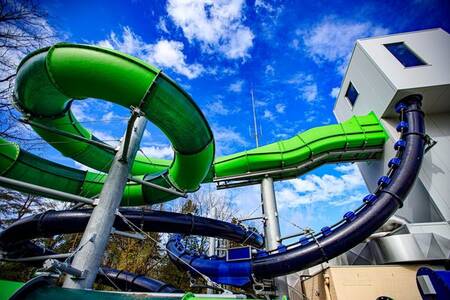 The Aqua Loop is the first looping slide in the Netherlands, 88 meters long. You step at 11.5 height, you step into the launch cabin, you shoot down in a free fall at about 50 km/h and then you go into the super sharp turns. It's not a full loop, but you bet it feels that way!
The Aqua Racer is the first of its kind in Dutch Center Parcs parks, it is already a big hit in Germany. You take place in a large inflatable tire, alone or in pairs, and you slide to the finish line spinning and spinning. The slide starts at a height of 9 meters and has a total length of 105 meters!
Prices & availability
Center Parcs: Discount on discount - up to 36%!
If you book early, you can stack discounts and benefits. That adds up nicely.
Are you nice and early to book? Then you will receive 20% early bird discount if you book at least 6 months before arrival, 15% early bird discount if you book 4 to 6 months before arrival and 10% early bird discount if you book 2 to 4 months before arrival.
In addition, you will receive a 20% Family discount (for families with at least 1 child under 13 years old) or a 20% 55+ discount, for arrivals outside the school holidays. This way your discount can go up to no less than 36%!
Early bookers get even more extras: Activities Gift worth € 30 (vouchers with which you can book up to 3 activities) and free preferred location of your cottage worth € 33.
Look quickly!
Frequently Asked Questions about Center Parcs De Kempervennen
Wie viele Ferienhäuser hat Center Parcs De Kempervennen?
Center Parcs De Kempervennen has 743 holiday homes.